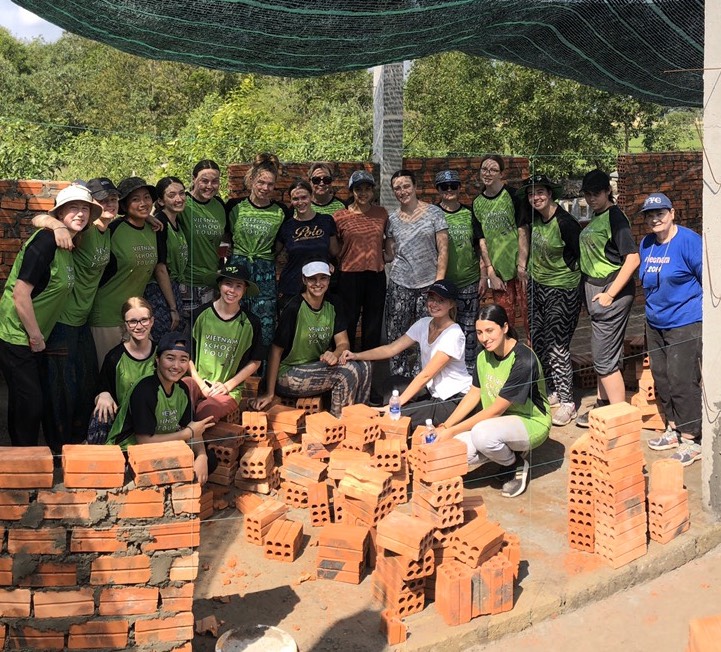 Sofia M.
This trip has been one of the greatest, most rewarding experiences of my life
This immersion has absolutely blown my mind! All my expectations for this trip were smashed and I can honestly say this trip has been one of the greatest, most rewarding experiences of my life. Before the trip I was fairly nervous and didn't know what to expect but I was also extremely excited to immerse myself into a new culture and way of life.
My favorite part of the trip was most definitely the time we spent in Hue though we stayed in the most fancy hotel, the community service activities we undertook here will forever stay with me. Visiting the orphanage though quite confronting was such a life changing experience. Making kids whose lives are hard with great challenges smile and laugh was a sensation I can't even put words to. In Hue we also began building the school. From the moment we arrived at the little parish in the rice fields with blaring music and the most friend community, I knew what us Mercy girls set out to do would change the lives of so many. Shoveling piles of sand and laying hundreds of bricks in the heat of Vietnam though extremely labour intensive, made me feel so happy and joy as Mercy girls all come together and were able to help those who need it. I will never, ever forget the time we spent in Hue and all the memorable people who were a part of the orphanage and parish.
From this immersion I was able to develop a first hand impression of Vietnam. Vietnam is one of the most welcoming and friendly countries I have ever travelled to. Everybody always has a smile on their face. Vietnam also has a very strong culture and I truly admire the countries cultural history.
Before traveling to Vietnam I only knew the surface of the country's history but after the trip I have accumulated a much deeper understanding and was able to notice how the country's history is still so important to the cultural and physical aspects of Vietnam.
My most treasured memory from this trip would most definetly be my time spent with Fathe Kha at his parish and his final thankyou speech to our group. He was beyond greatful to our Mercy community and it blew my mind that helping and giving up 3 days to help build his school could make a community so happy.
This trip has impacted my life in such a tremendous way. It has made me so much more greatful and appreciative of the life I have been gifted with. In future any opportunity that presents itself I will more than happy to jump at the chance as I am lucky enough to have the opportunity.
It you asked me to fault this trip, it would be impossible. Every single aspect of it has been life changing and I am so thankful for this opportunity as it is something I will never ever forget. Vietnam both physically beautiful with gorgeous landscapes and culturally amazing with such amazing history and the most welcoming people is a country I hope to come back to. A very big thank you for the life changing trip you provided to us 18 girls, it will never be forgotten.
Thank you!!!
Genevieve O.
"Amazing activities so different and unique"
Travelled to Vietnam January 2020
Reflecting back on this trip I struggle to isolate one experience that beats the rest. Each day has brought amazing activities so different and unique. That is one of the amazing things about this trip and country, every experience is different.
I loved the amazing scenery and landscapes across the entire country. I enjoyed the scenery because itis so unique and different to anything I have seen, my overall impression of Vietnam is that it's a beautiful country with a rich history and culture.
I had no idea of the interesting and extensive history dating back thousands of years. My opinion on Vietnam has changed, I didn't understand how busy the cities would also be. I also didn't realise the extent of the poverty, even in the cities. Seeing the pollution also shocked me, I didn't realise that even in the rural areas it still occurred.
Spending time building the school and seeing the children at the orphanage truly touched me. That experience so unique has made a huge impact on my life and reminded me that;
(a) I am so grateful to have the opportunities I do
(b) I am in a position to be able to give back to those less fortunate.
That is what I will take from this trip, the reminder that I have the power to have a positive impact on those around me. In the future I will always take up these opportunities when they present themselves to me and always be thankful of what I have.
At school I will promote gratefulness and the experience to the other students to show where their donations go. For future expeditions, I could only suggest more time at the orphanage and another night in the magical Pu Luong National park as these experiences are so unique to Vietnam and the immersion trip.
This trip has absolutely exceeded my expectations. I could never have imagined the amazing memories and adventures this trip brought me, my life is so, so much richer because of my time here.
There were so many times when I couldn't believe where I was orwhat I was doing. From building a school to bike riding through rice fields in Hoi an, riding a water buffalo, learning how to fish or cook Vietnamese food. These moments I could never have experienced and didn't think I would experience without going on this trip.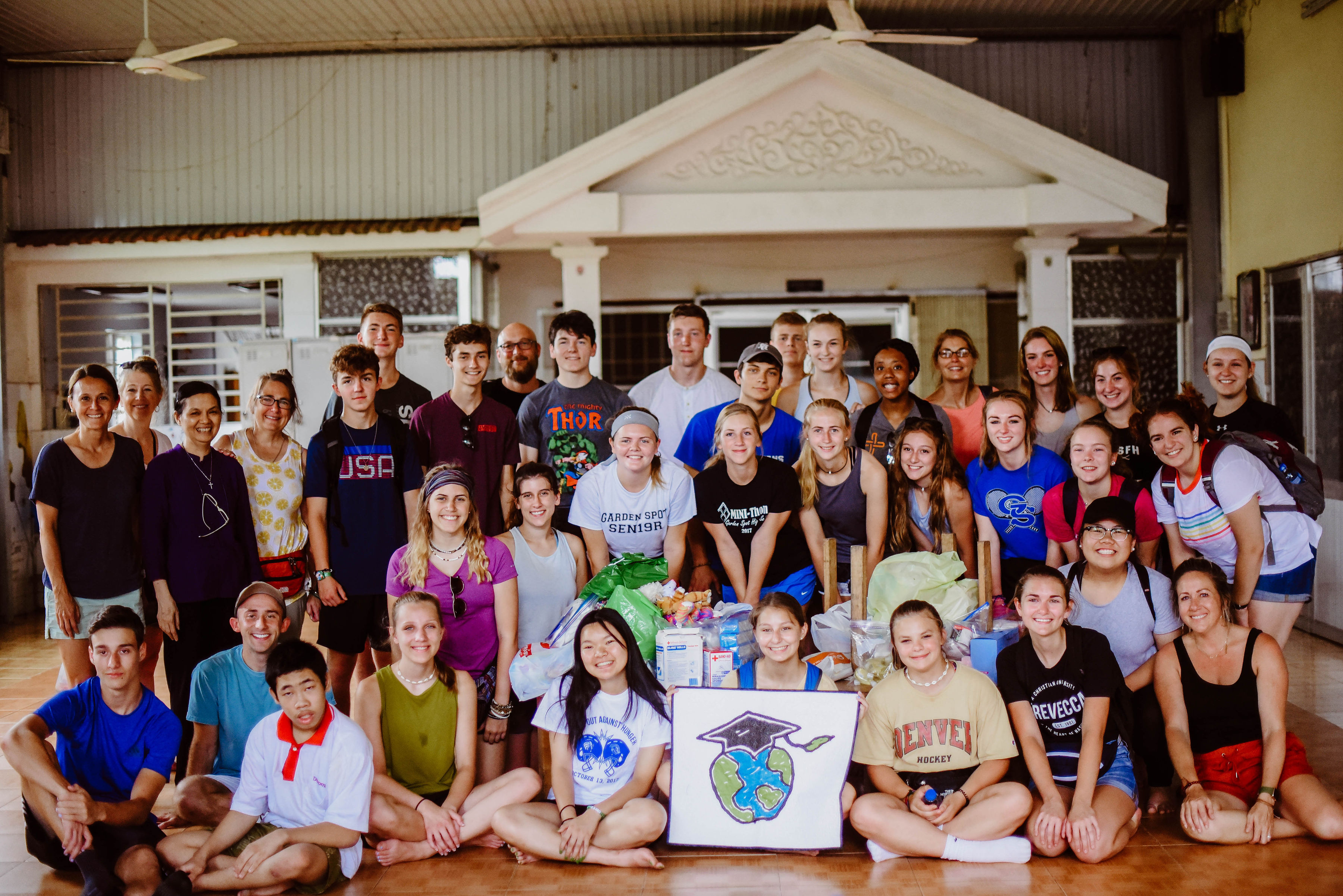 Karynne H.
"Everyday was full of new and exciting experiences"
Travelled to Vietnam June 2019
My time in Vietnam has been absolutely life changing. I had very little concept of what to expect coming into this trip and it exceeded my expectations. We hit the ground running as soon as the plane touched down and never stopped moving.

Everyday was full of new and exciting experiences that brought me closer to my friends, challenged my comfort zone and expanded my knowledge of Vietnamese culture. This tour was very good at challenging us with local homestays, views of everyday life and the Vietnamese perspective of things but also gave us familiar things, like American food halfway through to keep us sane.

Our guide Chi was amazing at connecting and giving us so much information, he was also very levelheaded while leading all 35 of us everywhere. I also felt good about helping people as we went. During our trip we visited a center for Agent Orange victims and it has greatly impacted me. We also visited many restaurants that employed disabled, homeless or minority people.

I couldn't have asked for a better experience and am already looking forward to coming back as an adult.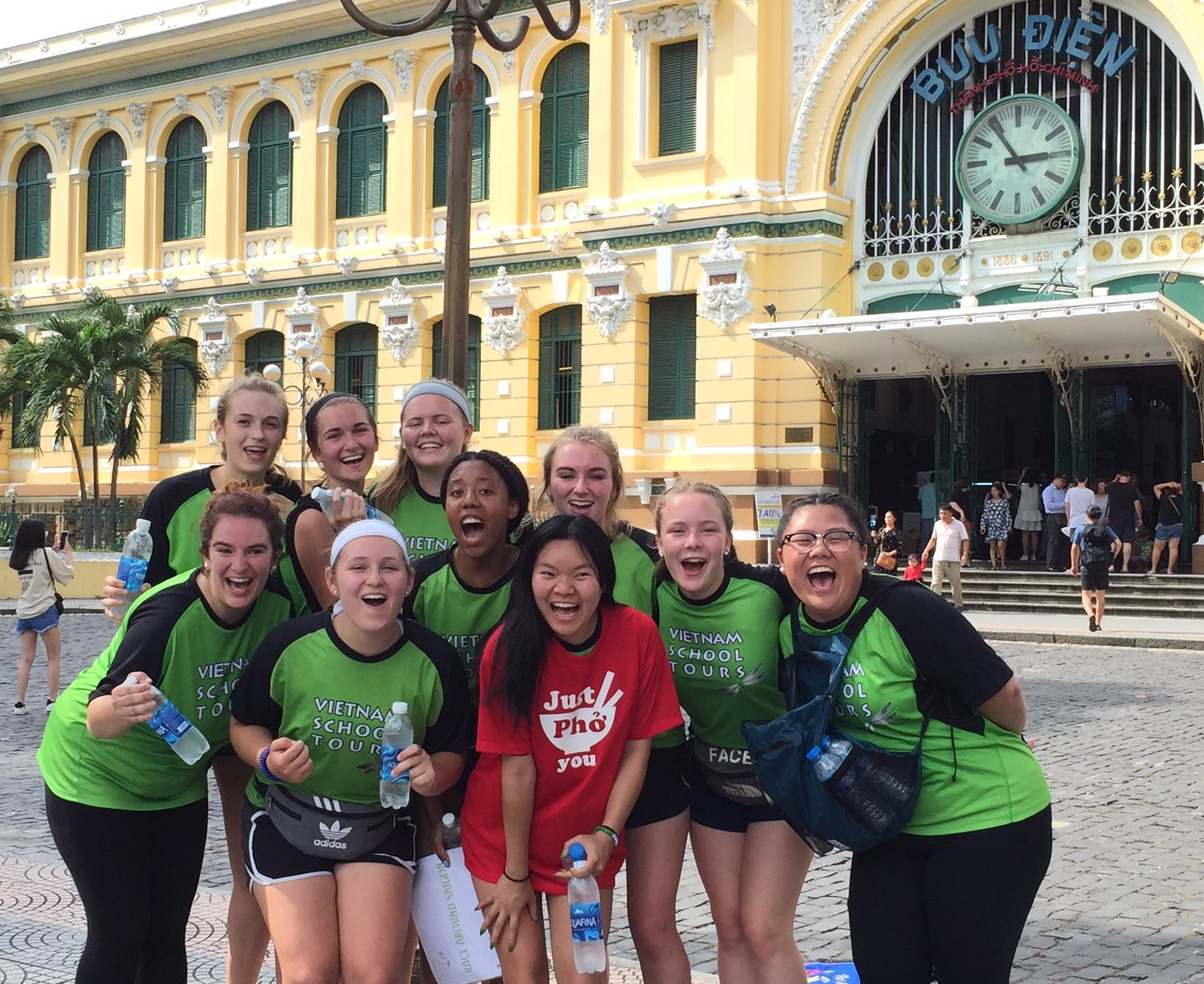 Kayla B.
The culture is so interesting and drastically so different; not only did I learn so much but I had fun too!
Travelled to Vietnam June 2019
My time in Vietnam has been absolutely one of the best experiences I've ever had in a country. The culture is so interesting and drastically so different; not only did I learn so much but I had fun too!

During my 2 week stay I got to ride a water buffalo, bike across some beautiful countryside in Vietnam, go on a beautiful cruise and even kayak in Ha Long bay!

The things I learned and saw you can't see anywhere else in the world!

My tour guide Chi was the funniest, smartest and kindest tour guide I've ever had. He made sure we were always safe and having tons of fun.

I felt like I learned a lot about myself as well like whether I am a follower or leader and how I look at things differently to find solutions.

All in all, I had an amazing time and not only did I learn about Vietnam but also about myself and how the outside world is so unique.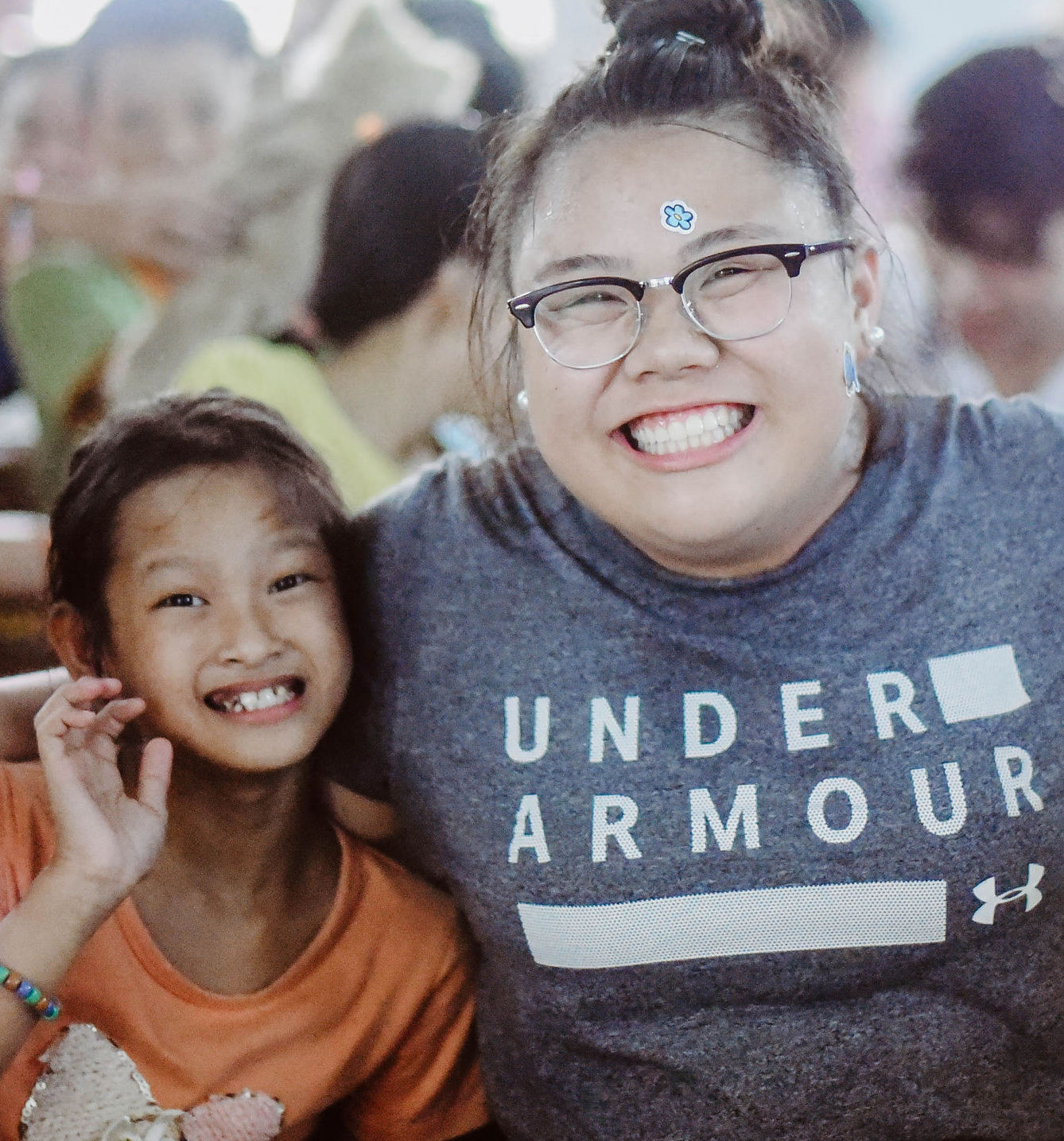 Shingyin K.
"I can't wait to bring all I have learned back to my community!"
Travelled to Vietnam June 2019
My time in Vietnam was truly one to remember. It has honestly been a great experience and will truly live in my heart forever. Without this program I probably wouldn't have been able to visit so many places here in Vietnam like we got the opportunity to. I've gained a better understanding of a new culture and a new array of experiences. From the bottom of my heart, I thank you for creating this program and for having such a great tour guide to share their love of this country. I have been changed and have gained a new perspective to this world. You have truly "opened my eyes and changed my life". I can't wait to bring all I have learned back to my community!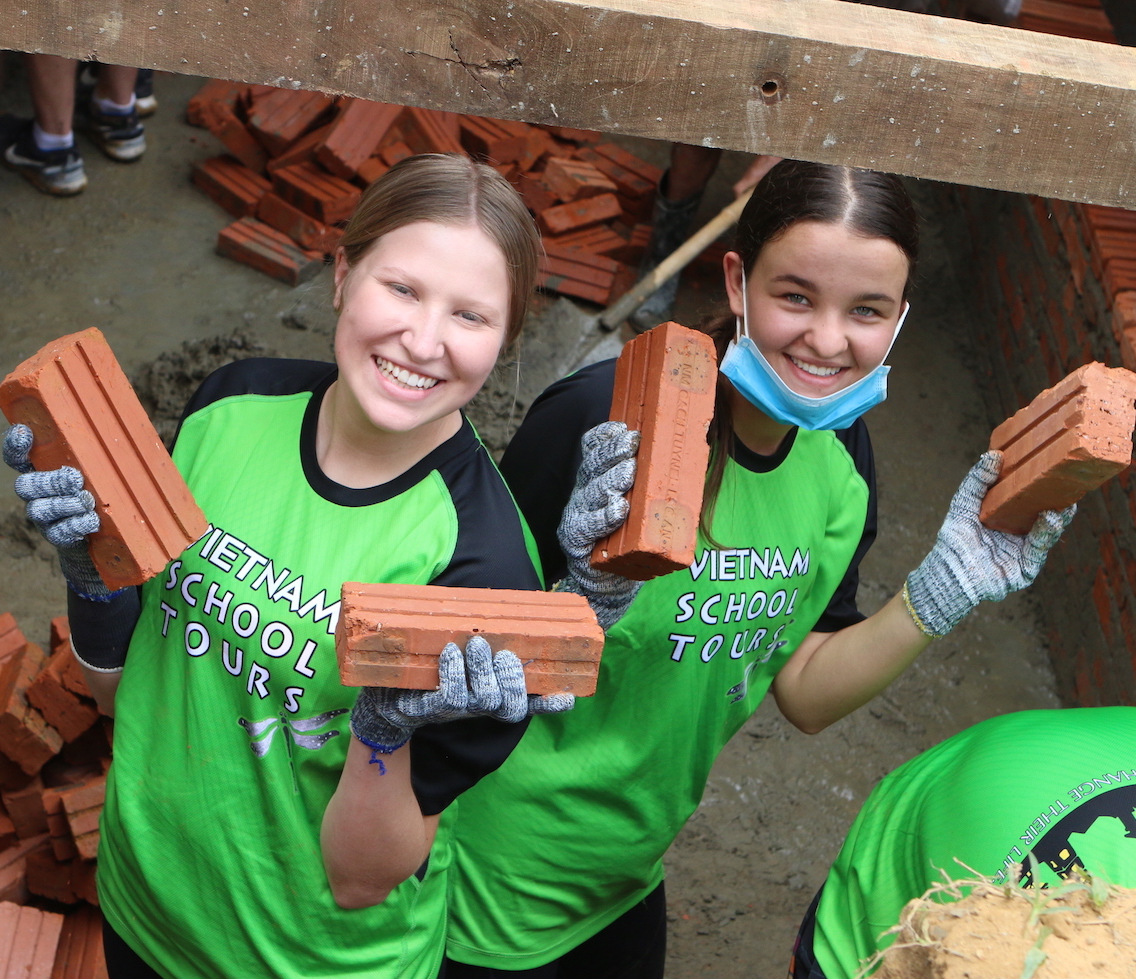 Grace S.
They opened my eyes to the true meaning of happiness.
Travelled to Vietnam October 2018
I can't thank Vietnam School Tours enough for allowing me to have this incredible experience. All of the time, effort and dedication was outstanding.
I loved coming to Vietnam, it wasn't just about going shopping or staying in hotels but about immersing myself in the culture. Eating the food (which I did alot of), listening to music, learning how to barter and most importantly experiencing first hand the lifestyle of the Vietnamese. It was such a touching experience being able to travel to two schools, we were able to see first hand the impacts of living in disadventaged areas. We weren't only able to teach those children but we were able to be taught by them. I only hope that our help and donations will help them to have a better future.

I especially learnt an important lesson in happiness, all of the children we visited were happy. No matter the situation, circumstance or outcome they always had a smile on their faces. It made me step back and think about my morals. What do I value most? Why do I value it? They opened my eyes to the true meaning of happiness.


I enjoyed every experience, although some days on the bus were longer then others I always felt excited about what would come next. The scenery in Vietnam is stunning. During our trek through the rice fields the enormity of rice production and consumption became very clear, it is amazing to think the whole country is based around one main product.
I loved every destination, whether it was the bustling city of Hanoi to the relaxed countryside of Hue. I loved Halong Bay and especially Hoi An. I studied the Vietnam War recently at school and it was great to find out new facts and relive some of the action whilst travelling through the Cu Chi tunnels. To be put in the situation the Vietnamese army were in would have been traumatic, but as they never gave up hope, their story is one that shows the strength of the people.
The history of Vietnam is complicated and filled with war and violence but it is also filled with hope and the belief that tomorrow is going to be a better day. I would recommend this trip to anyone who asked, I have had the experience of a lifetime. It really did open my eyes and change my life.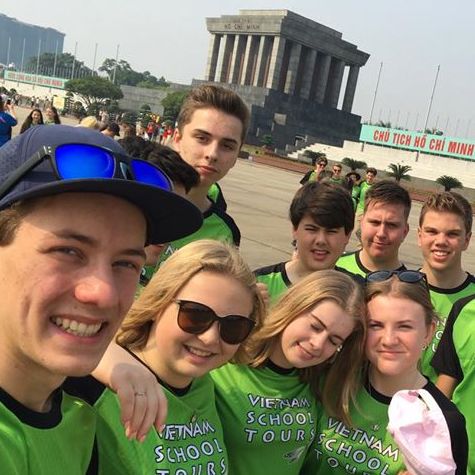 Will B.
I will always hold Vietnam, its culture and people in a special place in my heart
Travelled to Vietnam in October 2018
My time in Vietnam has been the most amazing experience, it definitely was a trip of a lifetime. From the very first day, to the day we left I enjoyed every single part of the trip. I was lucky enough to come on this trip with 25 other students and 5 amazing teachers to share this amazing journey.

Everything that I witnessed on this trip was definitely eye opening, it was great to be able to experience a different culture, along with its foods and the lifestyle of Vietnam.

My favourite part of this journey was the school trip in Hue where we went into the mountains to support a Catholic school in need by helping them in the construction of their toilets and by donating $1200. This part of the trip was truly eye opening. It took me by surprise to see how happy the students and staff were even though they were surrounded by poverty. I truly loved seeing the kids smile as we talked to them, played with them and helped them out. This feeling is something I will hold close to my heart and is definitely a moment that I will never forget.

Our tour guide, Dao, made the experience even better with his knowledge on every location we visited and his deep connection with many places. He had a great sense of humor and for me he made my trip in Vietnam a trip I will never forget. I am extremely honoured to have been given this opportunity and I will always hold Vietnam, its culture and people in a special place in my heart.

Thank you Tram and it was an honour to meet you.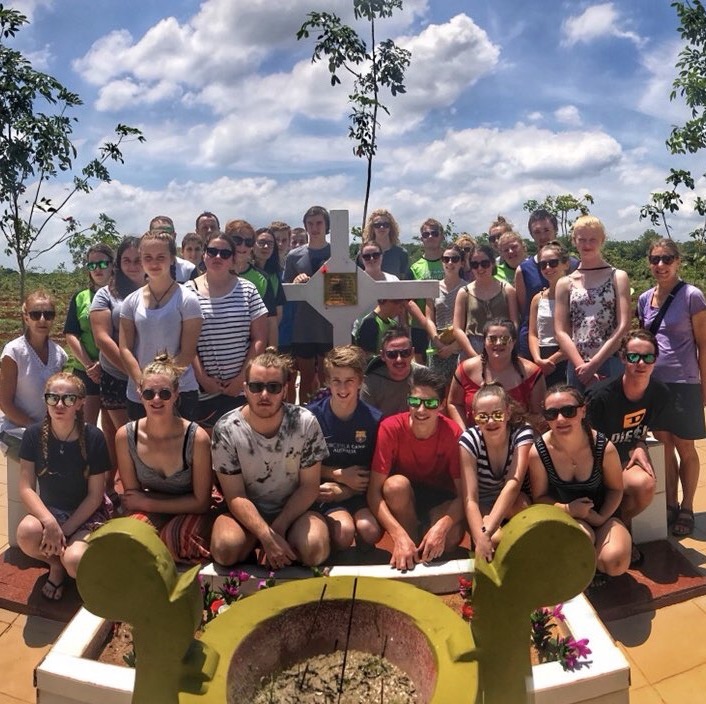 Halle W
I was able to indulge myself in a very mixed variety of foods and nourish my tastebuds with Vietnamese cuisine.
Travelled to Vietnam in July 2018

My time in Vietnam was the most exciting time I have ever endured. From getting off the plane and meeting the witty, smart and amazing tour guide, Chi, I knew right away that it was going to be an enjoyable trip. One thing I enjoyed about the travelling side of things was the fact that I was introduced and exposed to a much larger number of environments, which broaden my horizons and opened up my brain. For example, we spent only one night in a homestay and it opened up my mind to different households and the unique functions of them. I quite liked the boat trip too, it was very refreshing and calming to be sailing across such a large, beautiful landscape and the staff were all so lovely and welcoming.
The food whether it was lunch, dinner of brekkie, was amazing. It was one of the most significant parts of the trip where I was able to indulge myself in a very mixed variety of foods and nourish my tastebuds with Vietnamese cuisine.
I thoroughly enjoyed the markets, from 'food to clothes to everything else'. It was so very interesting (and mighty competitive). I learned the ability to bargain until my hearts content and convert currency, which will help me in the future when I travel. Every single person was very nice and made the trip 100% better, I have never met such a large amount of genuinely nice people.

And for our tour guide Chi, thank you so much for the small stories, the laughs and the typical witty approach to everything, I would recommend this trip for anyone looking for a different take on the world, as not only will it make you see things differently, this will be extremely beneficial and help you grow as a person. Thank you Vietnam School Tours for the best time of my life.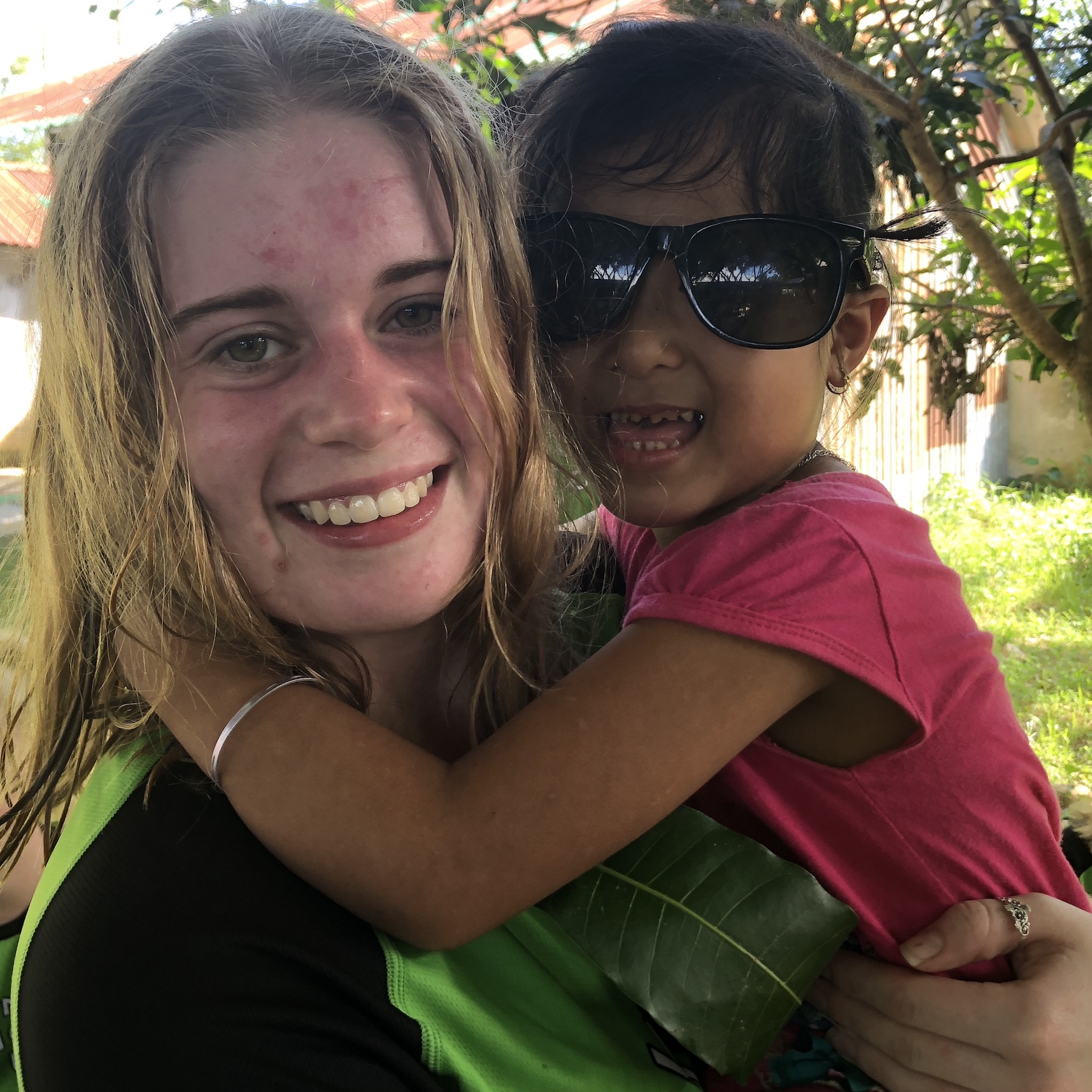 Rebecca P
My time in Vietnam was one of the best experiences of my life.
Travelled to Vietnam in October 2018
My time in Vietnam was one of the best experiences of my life. It taught me so many valuable lessons, gave me more independence and allowed me to experience things that I never had before in Australia.
I enjoyed meeting with kids at the school and donating money that we fundraised as it made me feel like I had made a small impact on other peoples lives.
I believe that this trip is a perfect balance of educational and fun as I found I enjoyed all of the trip and now hold so many amazing memories with my friends and people I got to know in Vietnam. One of my favoutite days was the eco tours as we got a much bigger insight into the true Vietnam and I thoroughly enjoyed the circular bamboo boats.
Vietnam is different to Australia in every way and I think Vietnam School Tours perfectly depicted the different culture and conditions faced in Vietnam. It truly did open my eyes to what other people in the world deal with everyday for basic life necessities, to give their families an education and the hard labor people have to do.
I would highly recommend this trip to any and everyone as I do not think I will ever forget this amazing experience and it truly did make me view the world in a different way.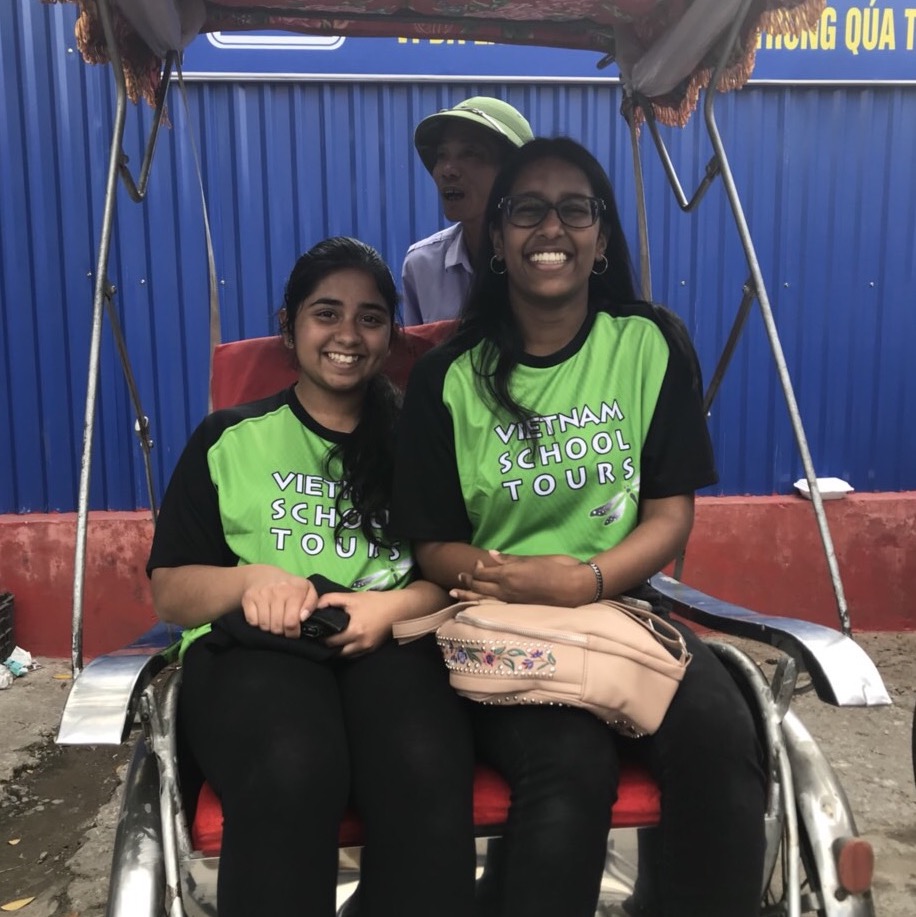 Tina T.
I was able to experience this country, with its rich culture and unique history
Travelled to Vietnam in September 2018
My time in Vietnam has been incredible. I was able to experience this country, with its rich culture and unique history, in a way that was authentic and truly inspiring with numerous visits to various museums, such as the War Remnants Museum, we were able to gain a meaningful insight into the lives of those residing in Vietnam during the Vietnam/American War, as well as some issues stemming from this event that are on going and prevalent in contemporary society, it was highly relevant and useful for us students.

This understanding of the war was heightened when we talked to war veterans, who shared personal anecdotes and opinions of pressing concerns at the time, also enabling us to form an emotional connection with this war of which Australia also played a role.

The food was amazing, everyone enjoyed trying the local cuisine although nearing the end of the trip, we started to crave food from back home :) The cyclo tours were also a unique way of experiencing the lifestyle and a traffic of Vietnam. Our time at Halong Bay was amazing. The scenery was gorgeous and the activities such as kayaking were another way of enjoying the beauty of the place.


Another aspect of the trip that I found to be inspiring was the trip to the centre for children with disabilities. It allowed us to recognise the presence and importance of issues in reality, some of which we would never encounter in our privileged life in Australia, allowing us to be more open-minded and accepting. It also fosters and ignites a mindset based on helping others in need.

The tour guides, who we got very close to shared how this trip positively affected their lives, which also filled me with happiness, as this trip itself was helping the local Vietnamese community achieve their goals and allows for a better way or standard of living.

I loved every aspeet of this trip and I thank anyone and everyone who helped make this trip possible. It really did open our eyes and change our lives.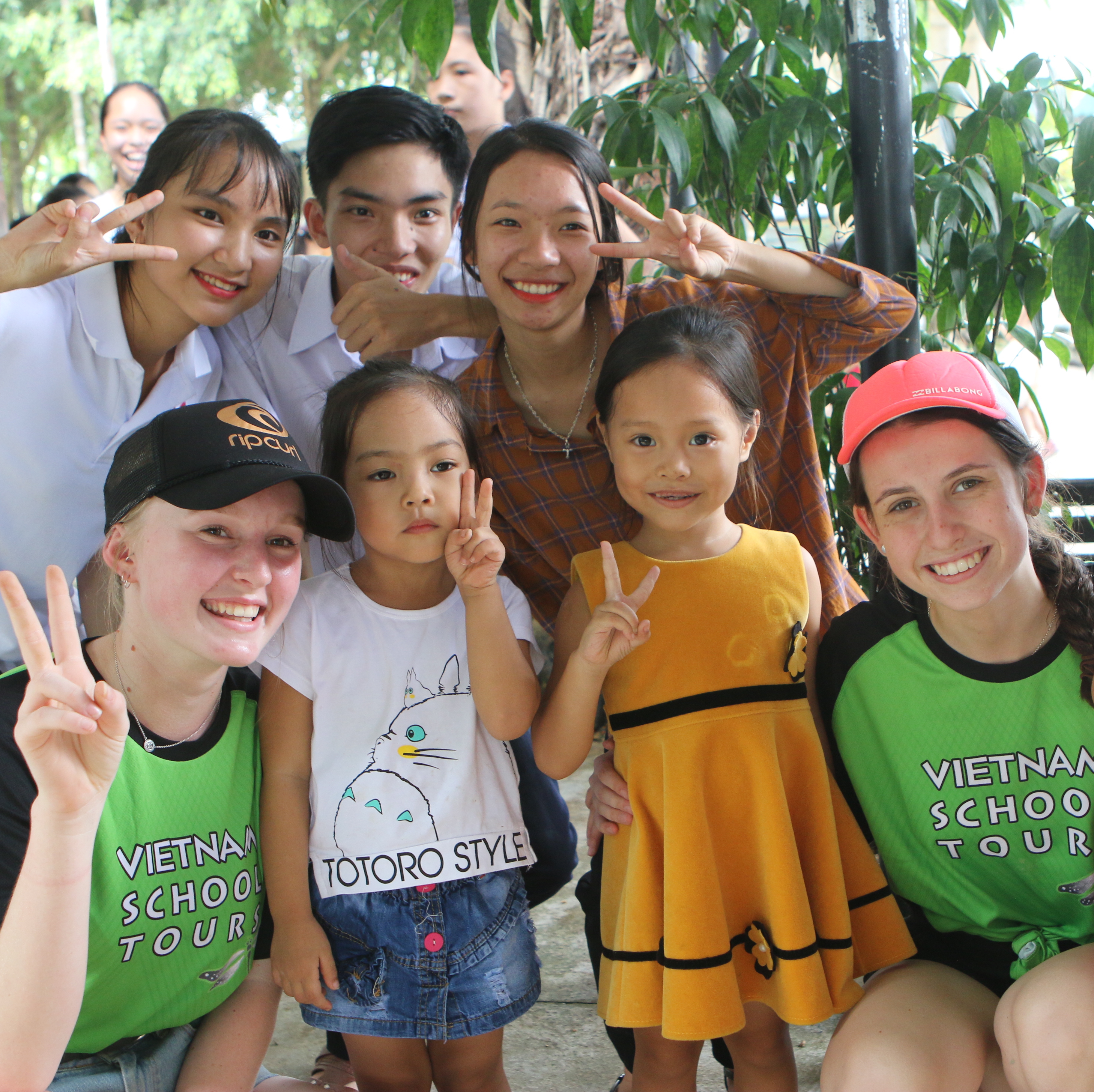 Alysha T.
These experiences make you a more worldly person.
Travelled Vietnam in September 2018

My time in Vietnam has been so truly amazing and eye opening. There has been so much to love about this trip, there was never a dull moment. I have learnt so much about the people and culture in Vietnam and these experiences wihch make you a more worldly person.

I particularly enjoyed visiting and playing with the children. They were all so beautiful, bubbly and happy. I think the children really impacted my time in Vietnam as they are all so happy and eager to learn even though they are not as well off or given as many opportunities as people from our country. The experiences with the children really opened my eyes to see it is the simple things in life that really matter.

I loved all the "firsts" throughout the trip too. First time eating a range of different foods such as octopus, goat and dragon fruit. I also had my first go at bartering. There were so many first experiences on this trip and so many amazing memories that I could never forget! I have learnt so many new skills and this trip has definitely opened my eyes and changed my life.